The BeVan story
BeVan Slovakia Origin and Our Mission
BeVan Slovakia project was created based upon travelling experiences and passion for adventures by 2 explorers Marek and Veronika from Slovakia. We wanted to give opportunity to people from around the world to explore our homeland and surrounding countries by offering campervan for hire in Slovakia.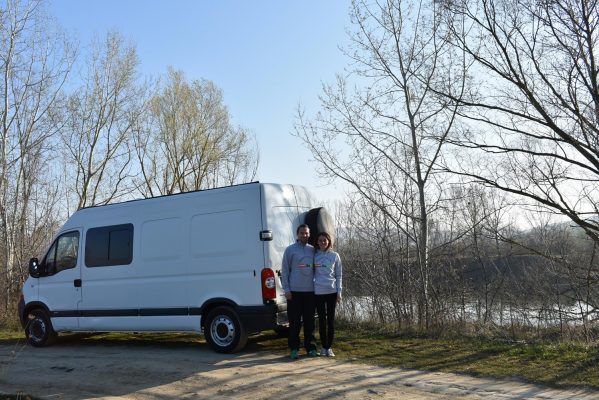 All began in 2016 when we travelled from Scotland to Sicily on motorbike to raise money for local charity and we met many people travelling also in self-built campervans.
We were inspired by various travellers and people living full time in their vans, so we decided to buy our first van Renault Master Long Wheel Based and make a self-built conversion to unique campervan, as we know now BeVan Slovakia.
From the beginning our aim is to bring more independent, easier and cooler way of exploring new places to people and make 'VanLife' experiences more memorable and affordable.
The conversion itself took around long 6 months during our spare time alongside full-time jobs. There had been issues, bad mood and disagreements during the conversion, as you can find in day life, but after all, we did it and the BeVan as we know it today, was born and started its official life in summer 2018.
What we offer
We offer fully equipped and insured campervan named BeVan for hire in Slovakia, built from new and reclaimed materials for those who love old-school travelling in new coat.
Despite the fact that BeVan is compact inside, it still offers comfort of tiny house.
There is more than enough storage space, luxury of double bed with memory foam mattress, independent solar electric power, fridge, chemical toilet with shower, gas burner with running water, fully insulated with cosy heating for chilly nights during all year around.
BeVan-ers can experience independent travelling in stealth style as far as destinations hidden in the corners.
As we know that many of you have different desires and visions about travelling, we offer these truly precisely designed versions of BeVan for enthusiastic travellers:
You will not be disappointed as there is plenty to look forward to.
Based in the heart of Europe, Slovakia is brilliant starting point from where the joy of European adventures with BeVan Slovakia can be discovered.
When you go exploring with BeVan, you explore all you ever wanted to and you do not need to worry about the journey and time to the destination of your choice, because your destination is where BeVan is parked!